You've probably read by now about Netflix's "secret" codes. You know, the codes that can purportedly be used to bypass searching for movies on Netflix and "unlock hidden material."
Here are just a few of the accolades about Netflix's "secret" category ID codes:
"Secret Netflix codes…unlock hidden TV series, genres and movie categories." – The Sun
"Luckily, there's a secret, better way to browse the swaths of mediocre titles on the streaming service to get to what you're really looking for." – Mashable
"The secret numbers that unlock thousands of hidden films and TV shows." – The Telegraph
But are these Netflix ID codes really a secret? And do they really allow you access to "hidden titles?"
The simple answer to both questions is, no.
But, does that mean they are useless? Also, no.
The "secret" Netflix category ID codes can be very useful, but not for the reasons they've been hyped up to be.
We'll discuss how to use Netflix codes later on. But first, a note about what Netflix codes are, and how they work.
How "Secret" Netflix ID Category Codes Work
According to Netflix spokesperson Marlee Tart "We categorize our content into thousands of subgenres to help match the right content to the right member based on their viewing history."

These ID-codes were first discovered by a Netflix-obsessed blog called What's on Netflix in 2018. It works like this. Once you know the code number of your favorite genre, all you have to do is put it at the end of this URL:

>>> http://www.netflix.com/browse/genre/xxxxxx
(Just replace "xxxxxx" with the relevant ID code)
Therefore, in order to access the "Action & Adventure" category using the Netflix ID code listed below (1365), you would write "http://www.netflix.com/browse/genre/1365" in your browser.
Here is a sample of some of the more popular Netflix codes by category:
"Secret" Netflix Codes by Category
Action & Adventure (1365)
Adventures (7442)
African Movies (3761)
Alien Sci-Fi (3327)
American Slapstick (70101536)
Animal Tales (5507)
Anime (7424)
Asian Movies (78104)
Australian Movies (5230)
Baseball Movies (12339)
Basketball Movies (12762)
Belgian Movies (262)
Biographical Documentaries (3652)
Biographical Dramas (3179)
Boxing Movies (12443)
British Movies (10757)
British TV Shows (52117)
Campy Movies (1252)
Children & Family Movies (783)
Chinese Movies (3960)
Classic Movies (31574)
Classic TV Shows (46553)
Comedies (6548)
Comic Book and Superhero Movies (10118)
Country & Western/Folk (1105)
Crime Documentaries (9875)
Crime (100419)
Cult (80151703)

Documentaries (6839)
Dramas (5763)
Dutch Movies (10606)
Eastern European Movies (5254)
Education for Kids (10659)
Epics (52858)
Experimental Movies (11079)
Faith & Spirituality (26835)
Family Features (51056)
Fantasy Movies (9744)
Food & Travel TV (72436)
Football Movies (12803)
Foreign Movies (7462)
Gangster Movies (31851)
German Movies (58886)
Greek Movies (61115)
Horror Movies (8711)
Independent Movies (7077)
Indian Movies (10463)
Irish Movies (58750)
Israel Movies and TV (100383)
Italian Movies (8221)
Japanese Movies & TV (100385)
Kids' TV (27346)
Korean Movies & TV (100386)
Latin American Movies (1613)
Martial Arts Movies (8985)
Middle Eastern Movies (5875)
Mockumentaries (26)


Music (1701)
Musicals (13335)
Mysteries (9994)
Political Movies (2286)
Political TV Shows (25807)
Reality TV (9833)
Religious Documentaries (10005)
Rock & Pop Concerts (3278)
Romantic Movies (8883)
Russian Movies & TV (100393)
Satires (4922)
Scandinavian Movies & TV (100394)
Sci-Fi & Fantasy (1492)
Science & Nature Docs (2595)
Silent Movies (53310)
Soccer Movies (12549)
Southeast Asian Movies (9196)
Spanish Movies (58741)
Sports & Fitness (9327)
Sports Movies (4370)
Stage Musicals (55774)
Stand-up Comedy (11559)
Tearjerkers (6384)
Teen TV Shows (60951)
Teen Movies (2340)
Thrillers (8933)
TV Shows (83)
Westerns (7700)

How to Find "Secret" Netflix Categories Without Using Cumbersome ID Codes
There are 2 really awesome ways to conduct a Netflix search and find the categories you want, without having to figure out the Netflix codes through a 3rd-party source. Both ways are described in-detail in our article about Netflix Search.
Here's an abbreviated explanation of how to find the Netflix categories you want, and their category numbers—right from the Netflix search bar:
1) The Drill-Down Method
To find specific categories that Netflix has to offer, let's let Netflix give us its suggestions. For example, let's see what Korean categories Netflix has to offer by writing "Korea" in the search bar (hint: it doesn't matter whether you write "Korea" or "Korean," and likewise with other countries):
Afterwards, an "Explore titles related to" section appears with suggestions such as: "Korean TV Dramas," "Korean Movies," "K-dramas," etc. By clicking on any of these sections you can access the "secret" Netflix code category page.
As you can see, the "Korean TV Dramas" category ID appears in the URL. However, we found an easier way to get there without having to break our arses using the ID codes.
2) The Mix-And-Match Method
The Drill-Down Method, described above, does not always uncover every possible subcategory. So, for example, searching for "Korean" did uncover a bunch of Korean drama categories, but it did not uncover Korean Comedy categories.
In a case you are interested in a specific subcategory, such as "Korean Comedy," try mixing and matching "Korean" and "Comedy."
Pro Tip: When looking for comedy, also try using the search term "Goofy" (unless you only enjoy dry comedy).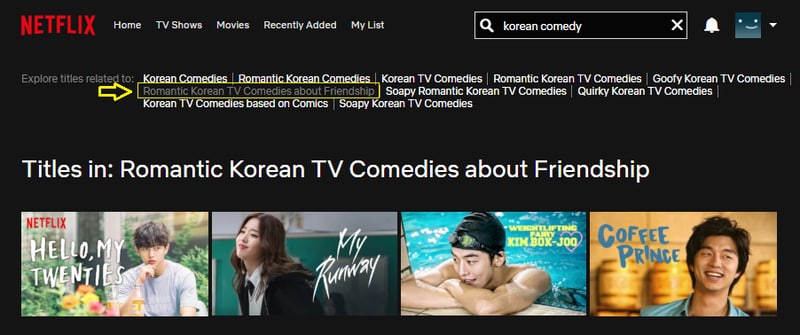 And voilà, what do you know! there are a ton of obscure "Korean Comedy" subcategories. Who would have thought to look for "Romantic Korean TV Comedies about Friendship?" But there you have it, it exists. Only by drilling down, would we have discovered most of these great subcategories.
Using the Mix-And-Match Method of searching in Netflix you can zoom in and zoom back out of search categories and find exactly the right thing to watch.
The Best Ways to Search Using Netflix ID codes
Although, using our unique method for searching Netflix, you don't really need any "secret" Netflix ID codes, there are some times they can be useful.
If you like using the Netflix ID codes, here are my 3 favorite methods:
FindFlix: Free extension for Chrome and Firefox that allows you to easily browse Netflix according to its ID categories
NetflixHiddenCodes.com: Easy-to-search list of categories to click on—check it out
The Netflix ID Bible: Insanely detailed list of pretty much every Netflix ID code category you could imagine
Bottom line: Are Netflix ID codes a scam?
Netflix ID codes are mostly overhyped, and way misunderstood. They do not "unlock hidden titles" that you wouldn't have had access to anyway—nor are they really a secret.
But Netflix codes are good for two purposes:
Finding all of the obscure categories that you otherwise would not have explored
Otherwise, it's easier just to use the regular search bar if you know how—and since you're lucky enough to have read this article, you do.