Arnold Schwarzenegger has had an dynamic career, to say the least. He is possibly the best catchphrase artist ever, with quoteable quotes such as "I'll be back," "Hasta la vista, baby," and "Remember when I said I'd kill you last? I lied." Throughout his career as a bodybuilder, actor, businessman, and politician his public image has changed with the times, and so has his website.
In this article you will see the evolution of Arnold's website through the years. And the very end of this article holds an epic treat. So be sure to check it out.
Arnold Schwarzenegger's Muscleman Website (1996-1999)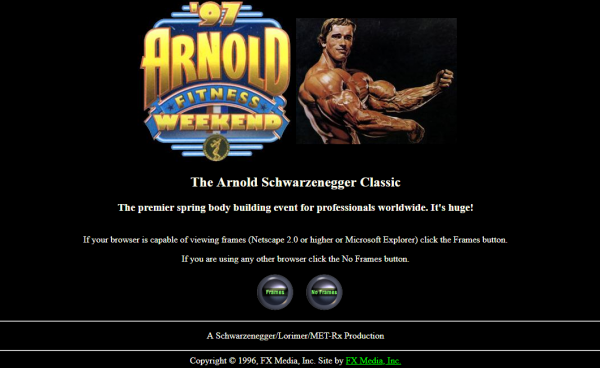 In 1996, Arnold Schwarzenegger's website focused bodybuilding. It had buttons to take you to different versions of the site.
If you where lucky enough to have Netscape or Microsoft Explorer you could view the sophisticated version of the website, "with frames." The major advantage being that the website with frames featured a menu on the left side. This was when the internet was in it's infancy, mind you.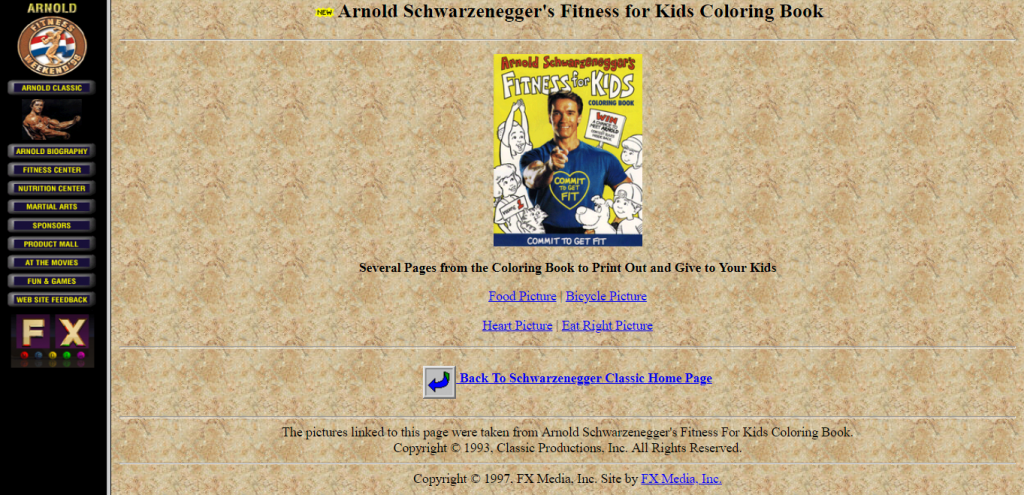 Without a doubt, the cutest section of the website was the downloadable Fitness for Kids Coloring Book.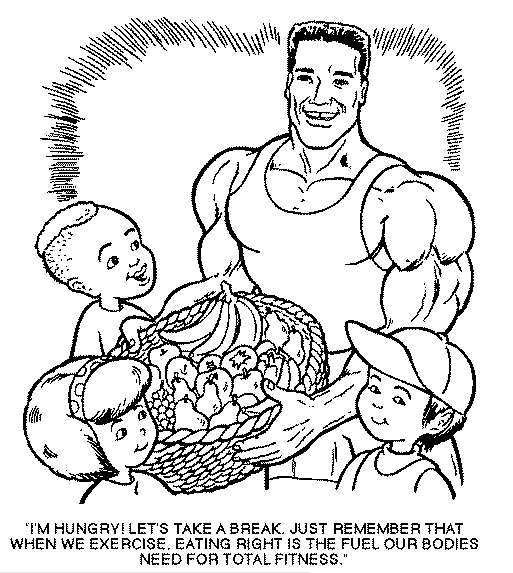 Arnold's Star-Studded Website (2000-2002)
By 2001 Arnold's website featured four versions, in his own words, "Hi-Tech, English, Spanish and my favorite, Austrian (German)." This one was very spiffy, and very yellow.
Here is what it became if you clicked on the ENGLISH (low-tech) button:
Yowzers!
But if you were to press the "HI-TECH" button, you would get a presentation more befitting of the star of some of the most hi-tech movies of their time:
It's so darn cute, he looks like he could be a kindergarten teacher.
Arnold's Busy Political Website JoinArnold.com (2003)
In 2003, Arnold decided to run for governor of California. Of course, puns were made. Arnold was quickly given nicknames such as "The Gubernator," an allusion to his Terminator movies, and "The Running Man," a word play based on a film he starred in in 1987.
His regular Schwarzenegger.com website now redirected to a new one called JoinArnold.com: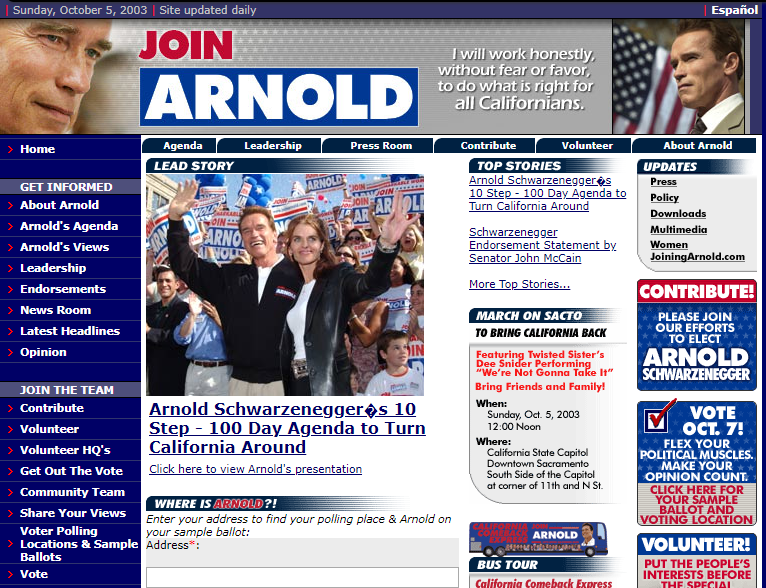 Just in case voters' had considered Arnold Schwarzenegger nothing more than a muscleman, the about page showed him to be an achiever with strong values:
Coming to America at the age of 21 with $20 in his pocket, Arnold's determination allowed him to reach one goal after another: reigning over the world of bodybuilding, being a successful businessman, rocketing to the top of the movie charts as an action-hero, and, perhaps most importantly to Arnold, helping children through the Special Olympics, his Inner City Games Foundation, and leading the campaign to pass California's Proposition 49 to increase funding for after-school programs.
Arnold's Jack-Of-All-Trades Website (2004)
Here is one version of the website that didn't last long.
After being elected the 38th governor of California Arnold's website tried to accomplish being everything Schwarzenegger and did a pretty good job, but it might have been a little too busy.
One everything about Arnold website was just not enough. A solution was needed.
JoinArnold.com Splits From Schwarzenegger.com (2005-2011)
Eventually, Arnold's one website became two – Schwarzenegger.com, for news about the governor, and JoinArnold.com, for recruiting political supporters. Renovations began in 2005.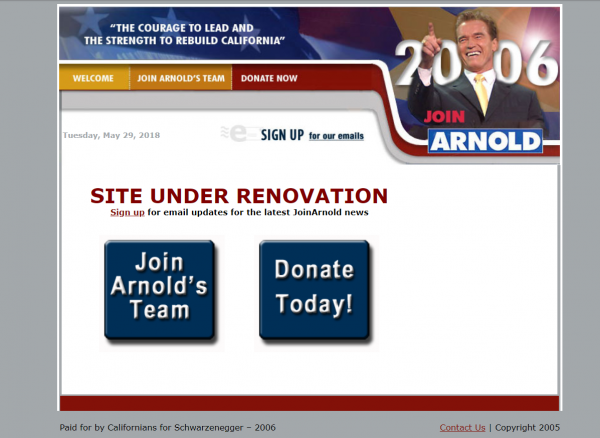 And here's how it looked in 2006:
The JoinArnold.com website continued until 2011.
Arnold's Gubernatorial Website (2005-2011)
In 2005, the Schwarzenegger.com website became more streamlined and focused on community issues. But that doesn't mean it stopped being badass. If you pay close attention, the lettering and coloring in the top bar is the same as was used in the first 2 Terminator movies.
The website also had a section to click over to the "GOVERNOR'S WEB SITE."
Arnold Stars in the Official California Governor's Website (2003-2011)
Pretty impressive.
Arnold's "I'll be back" Website 2011
After finishing his second term as governor in 2001, Schwarzenegger's website became a teaser for a short time inviting readers to "Stay tuned for my next move."
Arnold's Sports Festival Website (2012)
By 2012 Arnold Schwarzenegger was back in action spearheading The Arnold Sports Festival. Schwarzenegger.com, forwarded to ArnoldSportsFestival.com. The Arnold Sports Festival is still a popular event today.
Arnold's Current Website (2012-Present)
By the end of  2012, Arnold Schwarzenegger had a newer, sleeker website. It strikes the balance expertly by keeping true to Arnold's political image (hence the red, white, and blue theme) while incorporating all his film and fitness pursuits. Also, the logo is totally badass.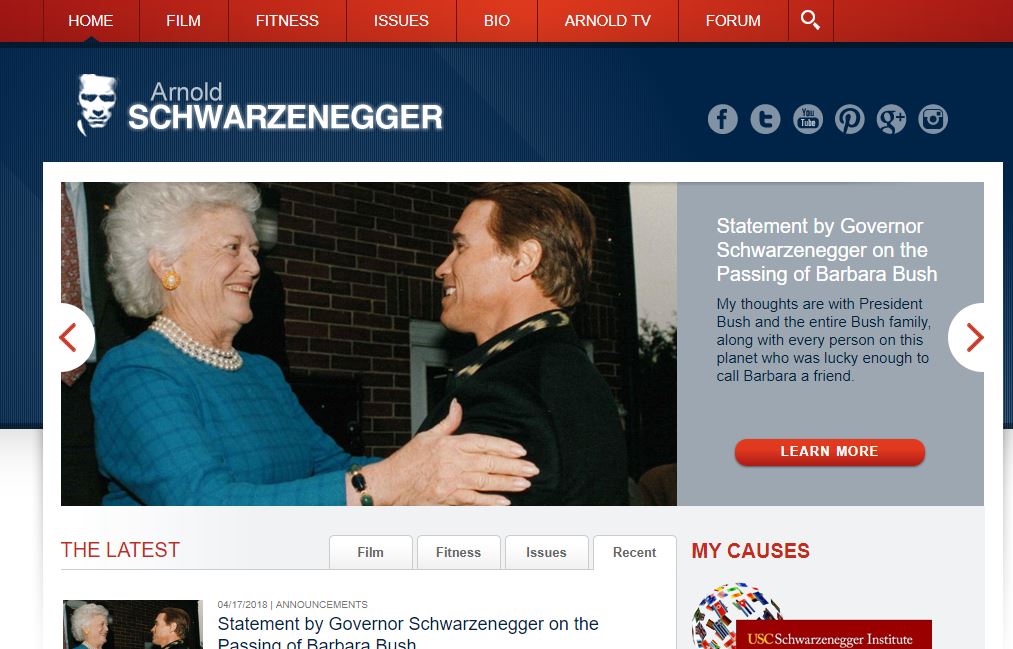 It's a far cry from the free coloring book download days or the awkward hi-tech/low-tech websites of yesteryear.
How to View Old Versions of Websites
To learn how I was able to put together these historical screenshots from over the past over 2 decades check out my tutorial on how to background check a website.
Historical Screenshots of Arnold Schwarzenegger's Morphing Website
And now the moment you've all been waiting for…the historical screenshots of Arnold's website all in one great place.