Sad but true, thousands of Netflix users don't know how to search for movies on Netflix. According to Google data, thousands of people search on Google every day for just the right movie or TV show to watch on Netflix – rather than searching on Netflix itself.
For example, there are 27,100 Google searches per month in the US for "sad movies on Netflix." GOOGLE SEARCHES! In the US there are also close to 10,000 Google searches per month for search terms such as: "romantic comedies on Netflix," "Spanish Netflix movies," and "John Wick on Netflix." And that's just the tip of the iceberg.
According to one study, Netflix users also spend almost twice as long browsing on average than cable TV users before settling on something to watch.
Wouldn't it be nice to be able to find exactly what you want on Netflix on Netflix?
The truth is, that it IS possible to search on Netflix, and learning how is easy, but it's not intuitive. That's exactly what this article about. More on that in a moment.
Why it's so difficult to search Netflix?
Although Netflix is definitely among the most sophisticated, and underappreciated, search engines, it doesn't make its search capabilities easy to understand.
Why?
The answer probably has to do with Netflix's business structure. Netflix is designed to make users passively engaged rather than actively engaged. That is why movies do not stop running on Netflix, once one ends the next automatically begins a few seconds later. The entire user experience is smooth and passive, allowing the user to browse lazily through movie and TV show suggestions until flowing gently and lazily into one that's good enough. Then, the next thing they know, it's 3 in the morning.
This type of user experience is passively engaging, it's smooth, and it's addictive. And getting users addicted is good for Netflix's bottom line.  
But for people like us—who want to use Netflix actively, to search the Netflix library, to be the first of our friends to find the hidden gems—there is a better way.
How to Search Netflix like a boss
You might have heard about the "secret" Netflix codes as a being a way to search Netflix better. Well, good news. You don't need them. There's a better way to search which I'll teach you here…
You've probably noticed that Neflix categorizes its movies and shows with some pretty unique, and specific, keywords – words that are rarely used by normal humans. Descriptive keywords like "cerebral," "buddy," "campy," and "conspiracy" appear in the content descriptions AND CAN BE SEARCHED.
All you need to know are the category keywords that can be used to search for. Then you can choose one keyword and use it to drill down to more specific subcategories based on Netflix's subcategory suggestions, or you can choose to mix and match keywords. More on that in a bit.
Here is a list of some of the most common search categories and terms according to genre and description:
Netflix Genres
Action & Adventure
Animal Tales
Anime
Biographical
Blockbuster
Children & Family
Classic Comedies
Cult
Documentaries
Docuseries
Dramas
Faith & Spirituality
Foreign
Horror
Independent
Music
Musicals
Romantic
Sci-Fi & Fantasy
Sitcoms
Sports
Thrillers
TV Shows
TV Shows based on comics
Netflix Descriptions
Absurd
Alien
Animal
Art
Assassination
Biographical
Bollywood
Bounty-Hunter
Buddy
Campy
Cerebral
Chilling
Classic
Coming-of-age
Conspiracy
Controversial
Cop
Courtroom
Critically acclaimed
Court
Cynical
Dark
Deadpan
Deep-sea
Detective
Disney
Dysfunctional family
Emmy winner
Emotional
Epic
Experimental
Feel-good
Fight the system
Gambling
Gangster
Girl power
Golden Globe
Goofy
Gorry
Gritty
Haunted house
Heartfelt
Heist
Hollywood movies
Imaginative
Independent
Inspiring
Irreverent
Kung Fu
Mad Scientist
Magical
Martial Arts
Medical
Mid-life crisis
Military
Mistaken identity
Monster
Offbeat
Ominous
Political
Prison
Provocative
Psychological
Quirky
Rogue Cop
Romantic
Road trip
Scary
Sentimental
Serial killer
Slapstick
Social issue
Space travel
Spy
Steamy
Supernatural
Talking animals
Tearjerkers
Team
Time travel
Travel
Treasure hunt
Underdog
Understated
Vampire
Violent
Viral plague
Visionary
Visually striking
War
Werewolf
Witty
Workplace
Zombie
Other search query words worth looking for:
Name – of your favorite actor, director, writer
Country – Where the film was produced
Awards – Golden Globe, Oscar, Academy Awards, Best Actor etc.
Age appropriateness – write "for ages 2 to 4," or "for ages 8-10," for examples, after search terms
If the above search terms and suggestions are not enough for you, here is an epic list of over 30,000 categories.
3 ways to search Netflix like a boss
1) The Drill-Down Method
There is a very easy way to discover increasingly specific searches for your relevant category. For example, if you are a fan of Korean TV and film (as I am), start by searching the word "Korea" in the Netflix search bar. And you will see something like this:
Did you happen to notice where is says "Explore titles related to:"? Yeah, most people don't.

Here it is again (with bright yellow arrows for dramatic effect):


Clicking any one of those particular subcategories will further specify the exact type of Korean screenplay you are interested in watching, such as: Korean Movies, K-dramas, Romantic Korean TV Shows, etc. On the other hand, if you're not interested in the given categories, and you know you'd like to find something more comedic, for example, you can specify "Korean comedy" in your search and Netflix will display all types of subcategories of Korean comedy to choose from.
This is really a fantastic way to drill-down to find well-categorized libraries of exactly the type of movie or show you want to watch. It's also a shortcut to searching using Netflix ID codes.
2) The Mix-And-Match Method
The Mix-And-Match Method of searching Netflix is exactly what it sounds like. You just take whichever search terms you want, and put them together trying different combinations until they return the movie suggestions you like.

Mix and match examples:
So if, for example, you want to find just the drama movies starring Adam Sandler, just write "Adam Sandler drama," and it will return only a few drama movies starring Sandler, rather than the dozens of movies you would normally see when searching for Adam Sandler on Netflix.
Or you could put together 2 of the search terms listed above. So putting "Mid-life crisis" together with "Comedies" we get "Mid-life crisis comedies."
And if you want to show your young daughter a movie about girl power try: "Children & Family girl power."
3) Sort by Release Date Method
If you want to sort your search results according to their dates, there is a hack that makes it possible. But to do so you need to use Netflix ID codes. Here's how:
1) Find the category you want to explore using the Drill Down Method, described above.
2) Find the Netflix Category ID number in the URL, as shown here for the "Korean TV Dramas" category:
Note: if the URL is not displaying a number in it, click a subcategory listed in "Explore titles related to." Then the number should appear.
3) Add that number at the end of this URL (in place of "xxxxxx"): http://www.netflix.com/browse/genre/xxxxxx
4) On the Netflix category page of your choice, click on the 4-dot icon in the upper right-hand corner.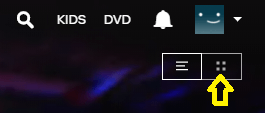 5) Then, a box will apear that says "Suggestions for you."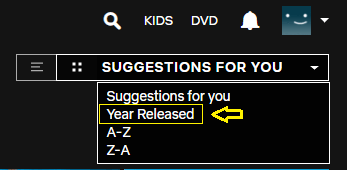 6) Choose the "Year Released" option.
Now you can sort movies and TV shows in any Netflix category by release date like a total boss. The first ones listed are the most recent releases and, likewise, the ones at bottom are the earliest releases.
More about Netflix ID codes
There has been a lot of internet hype surrounding the so-called "secret" Netflix ID codes that can be used to search categories of movies on Netflix. In actuallity, these ID codes are less useful for finding the movies and TV shows you want to watch than using the search methods described in this article. Why? Because, using Netflix ID codes is a cumbersome process. To use Netflix search codes, you first need to go figure out what the relevant search codes are by searching a 3rd-party website, whereas the methods described in this article can get you where you want to go simply by using the Netflix search bar.

BUT, there is one thing that the search codes can do that is very special—only by using the Netflix search codes can you sort movies according to the year they were released (as described above). Why? In Netflix's tradition of keeping its interface ultra-simple, it doesn't offer the "search by date" option on the main interface—only on the pre-sorted catgetory pages that are only accessible through the search codes.
What to do if your results aren't what you expected
Sometimes the descriptive word that you think is most logical to search for is not the one that produces the best results. For example, if you search for "Adam Sandler comedies" you will get some great results—if you like Adam Sandler comedies, that is—but if you search for "Adam Sandler funny" you will get a number of results that have nothing to do with "Adam Sandler" or "funny."

The reason this happens is because movies and TV shows can get indexed in Netflix using different terms. One movie might be described as "goofy," while another might be described as "slapstick," even though each term might apply equally well to both movies. And although Netflix does a pretty good job of indexing each piece of content in a fitting category, it can still take some trial and error to find the best keywords to use for any particular search.
Bonus tip: how to find out what is new on Netflix:
If you are in the US, UK, CA, or AU/NZ go to NewOnNetflix.info to see a list of all of the newest movies and TV show releases on Netflix.
Wrap up
This has been another Unshrouder tutorial on how to unshroud the internet through searching smarter. Think your friends would appreciate knowing how to search Netflix smarter? Share this with them to let them know.