People used to listen to a lot of radio. Shows were on the radio, news was on the radio and even though TV was pretty popular already, it was still pretty black and white (literally, bwaahhaaaha). Families would huddle around the radio hoping the reception would be good enough to enjoy their favorite programs. And the programs were great.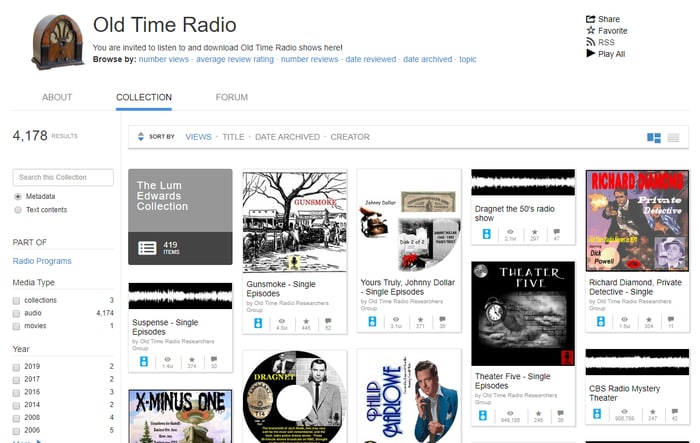 Imagine if all of the talent that goes into today's podcasts and radio and most of TV, was concentrated into just one vertical – radio. And what was popular? Pretty much the same things as today: crime stories, murder mysteries, police stories, romance, fantasy, comedy, satire, dystopia, sci-fi, superheroes, news, etc.
Today, we have the luxury of being able to access many of these classic old radio shows, at any time, anywhere and without having to worry about reception. But so many people are just not aware. Some don't know that this treasure trove exists, and many younger listeners wouldn't know how to approach it. But there is something for everyone who ventures to go adventuring there.
These old radio recordings are available from the WebArchive which has a ton of great resources, but is best known for being a way to see old versions of a website or to recover a webpage that's been deleted.
Here are just a few of the most notable old time radio programs available from the Internet Archive:
For more Old Time Radio, also check out the Old Time Radio Researchers Group (OTRRG). Many of the radio programs provided on the Internet Archive were painstakingly put together and edited by volunteers from the OTRRG, who we'd like to acknowledge and thank.